Issue Link Metrics
11 November 2019
Issue Link Metrics for Jira
Ever wanted to check how many blocking bugs you have? How many Epics with Security Reviews? How many stories without Security Risks?
Issue Link Metrics is a Jira Dashboard gadget which enables you to show a count of all issues with and even without linked issues.
A simple example of this is Any Open Stories with Open Bugs linked.
If you find linking issues a useful Jira feature, you can now have metrics on a dashboard to help you navigate outstanding issues or to show good progress towards goals.
---
User Guide
Adding a Gadget
As with any dashboard simply edit the dashboard and hit the Add Gadget button. Select Issue Link Metrics from the available gadget list.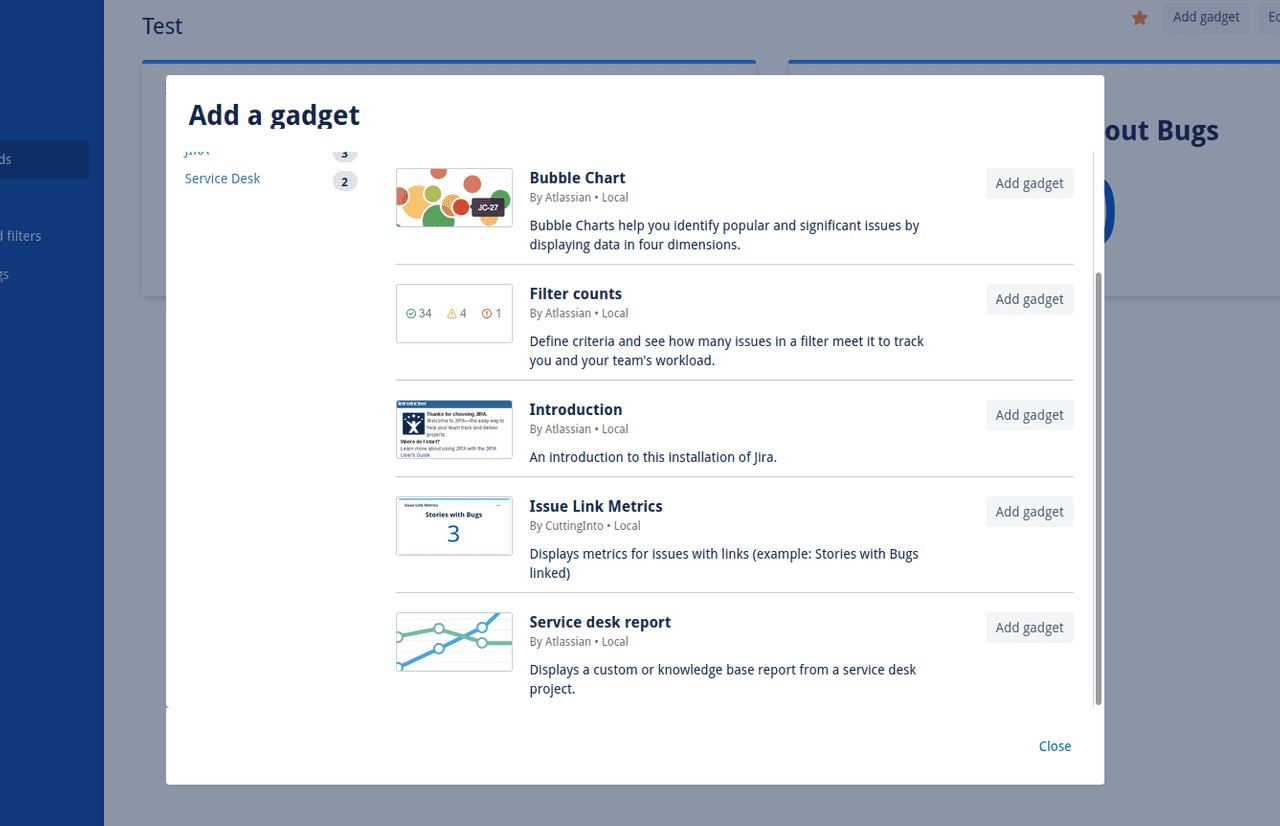 Configuration
Once a gadget has been added you will be asked to configure it first.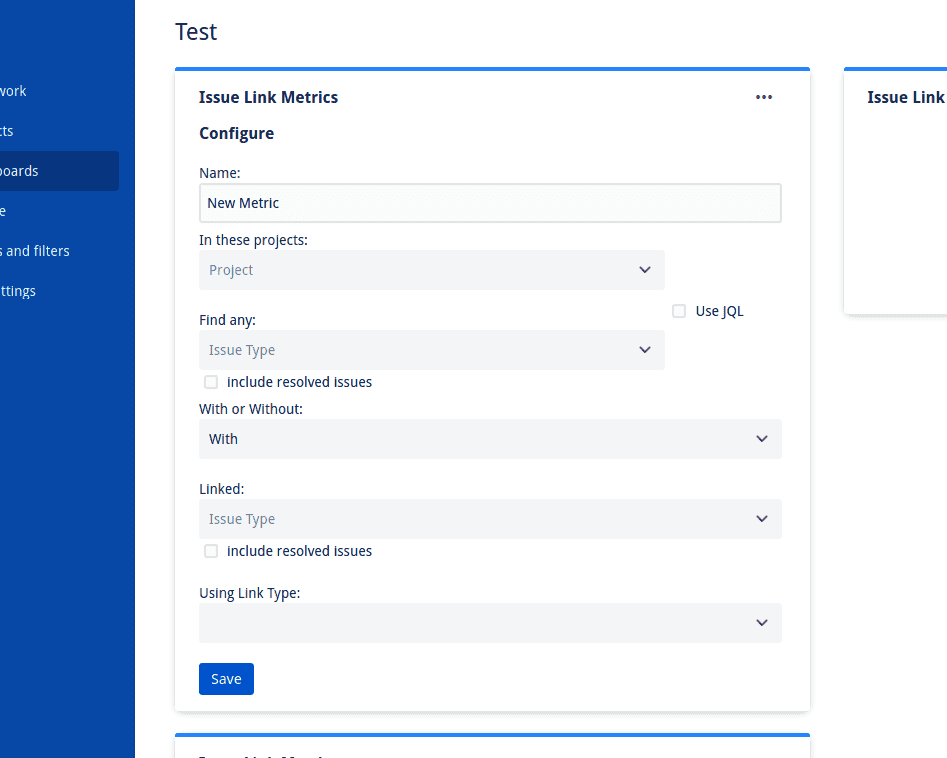 Name
To help you customise your gadget you are free to call it whatever you want. We advise keeping it short and precise to ensure the gadget does not take up too much space on your dashboard.
In these projects
Select the project(s) you want the main issue list to search from.
Find any (issue type)
Select one or more issue types you want the metric for. Example: Stories and Epics.
With or Without
Do you want the metric to find issues with or without the type of linked issue.
Linked (issue type)
What type of issue do you want to look for. Example: Bug
Using Link Type
Within Jira you can create many different issue link types, so you can either pick one specific type or set to All.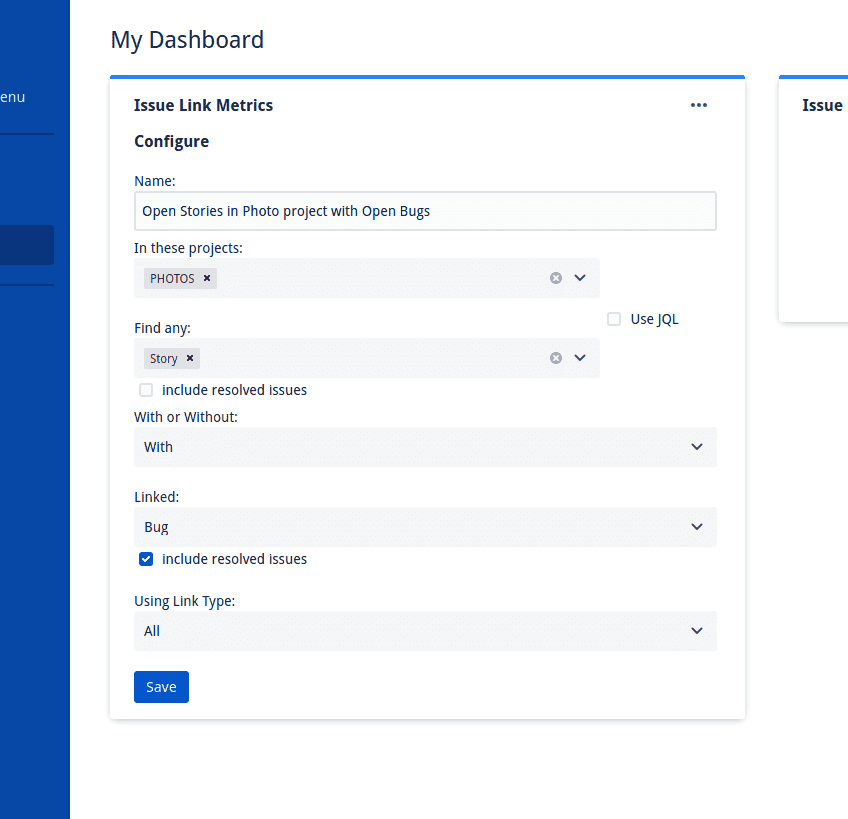 ---
Advanced Configuration
Main Issue JQL
As you may wish to use more complex criteria than project and issue type, to define the main issue list, a JQL option has been added. Simple enter the JQL you want to use, save the gadget and view the results.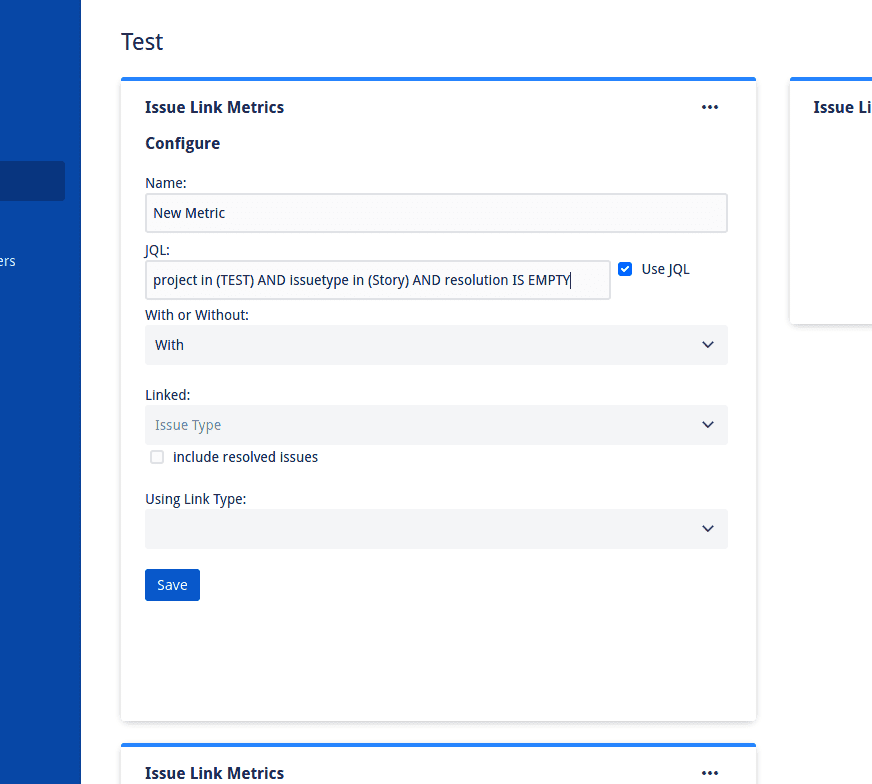 ---
Gadget Display
Once you have saved the Gadget you will see a Loading…. message followed by a total.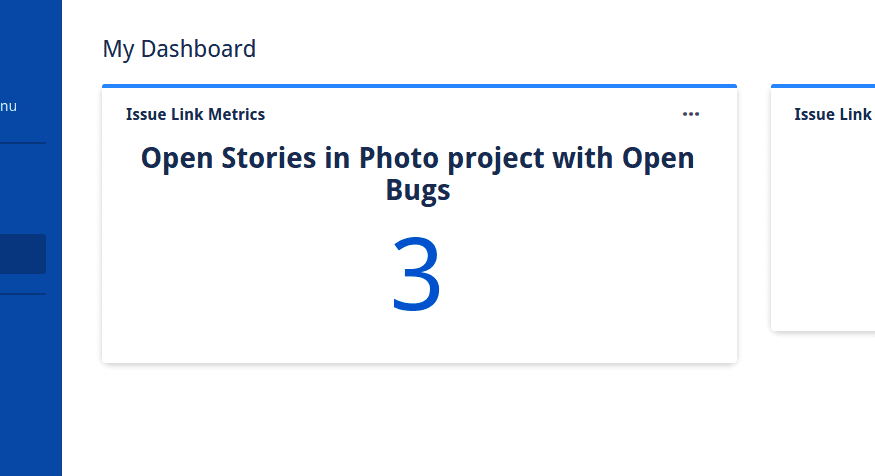 If there are issues found you can click on the total to see all the issues within the issue navigator.

---
Recommended Gadget Configuration
To help you understand how useful this dashboard gadget can be, please find below some recommended configurations.
Open Stories with Open Bugs
A simple example, we want to find all Open Stories with Open Bugs. So we do not tick either of the Include Resolved options.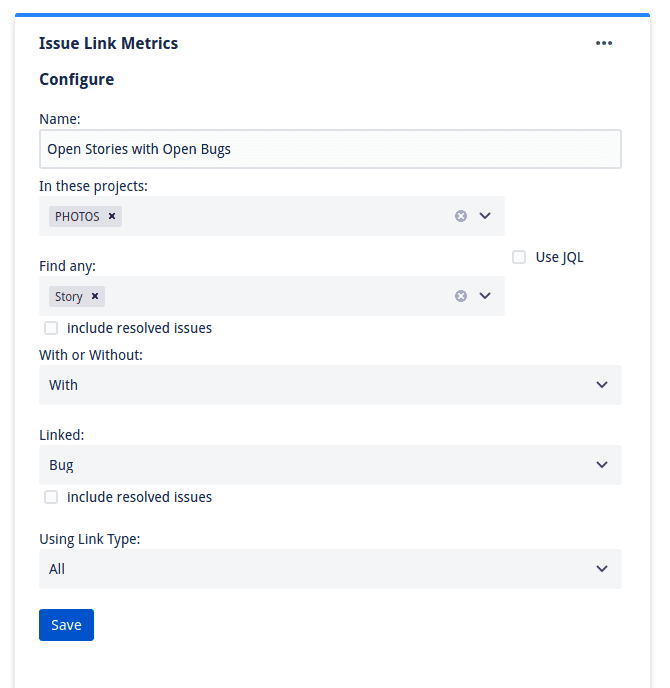 Open Tasks and Stories with Open Bugs (Blocking)
Similar to the previous example, we want to find Open Stories and also Open Tasks this time. We want Open Bugs linked but only those that are using the link type of Blocker. This provides useful insight to a team or stakeholder as to which issues are blocked.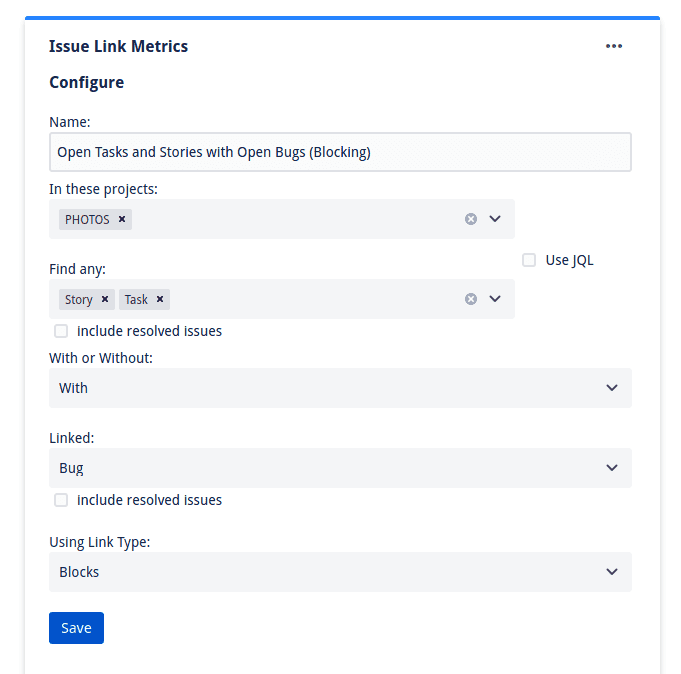 Outstanding Bugs with Open Stories
We switch around our first example to list the outstanding bugs which are linked to Open stories. Useful if you want to target those Bugs.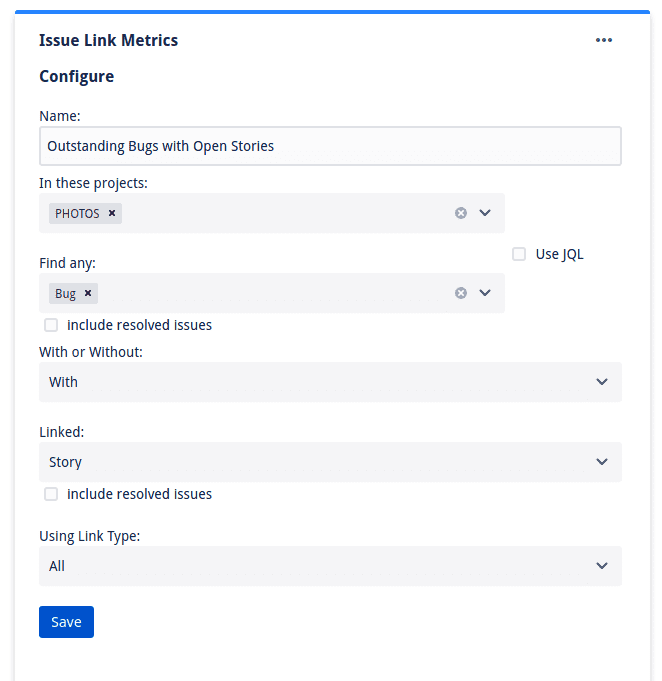 All bugs for open stories
We want to know how many bugs, including those resolved, are linked to open stories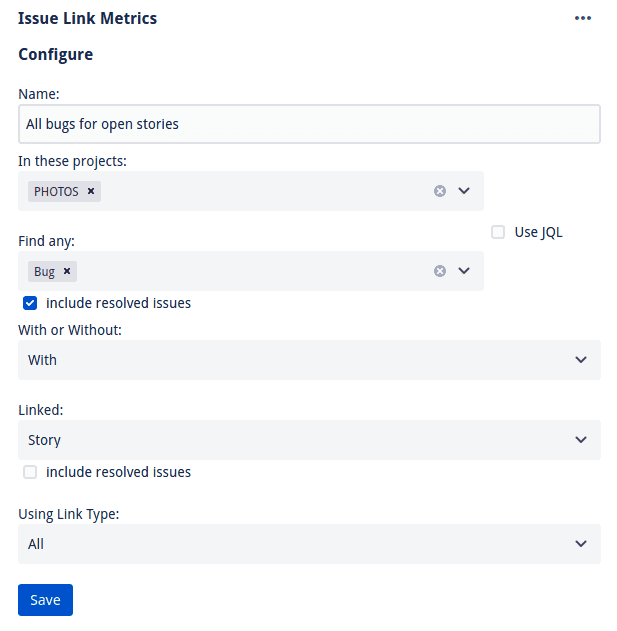 Epics In Review with outstanding security review
This time around we use the JQL to specify more criteria for the main issue list. We want to find all Epics in Review with an open security review linked.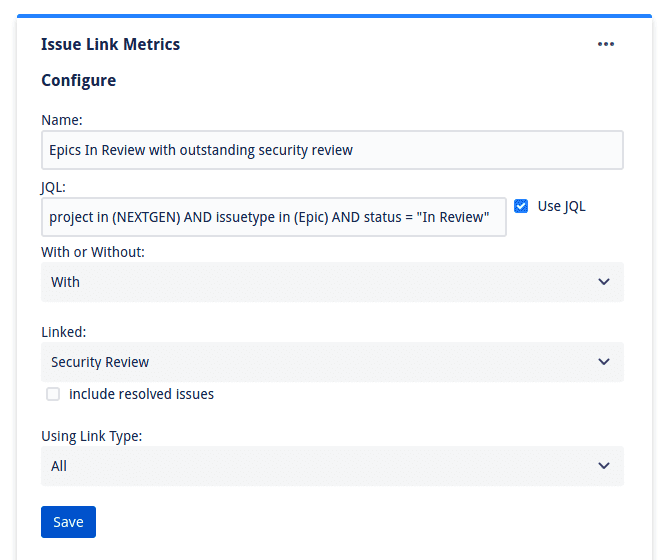 Performance Limit
To ensure the Dashboard gadget remains performant, a 300 issue limit has been set on the main issue type. This means you cannot have more than 300 issues from either your Project + Main Issue Type selection or via your JQL. For example: My Jira project contains 400 issues, 300 of which are Open Stories.
If you have over 300 refine your criteria for the main issue list using JQL. For example: I could enter JQL which only looks for Open Stories created in the last 6 months.
---